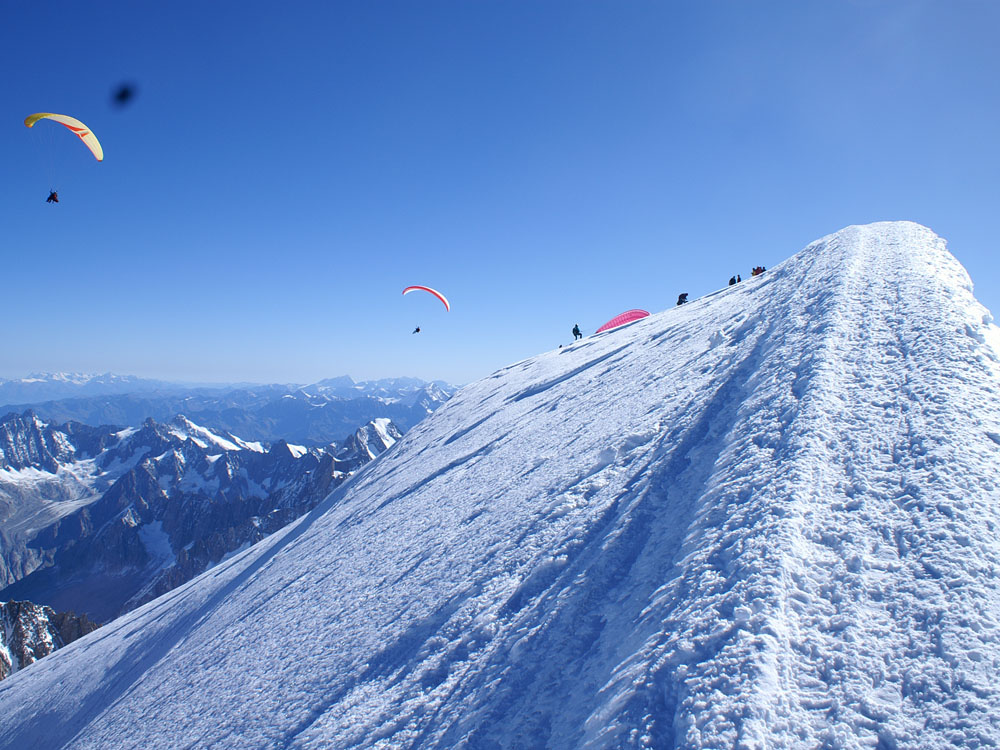 The Mont Blanc, the dream of many pilots requires a precise preparation; as much for the climb as for the flight & demands a perfect study of the mountain & weather conditions. Having to descend by foot must always be considered.
Flight conditions: anticyclonic conditions with a light North, South West or East wind (max 20 kph at 4 000m). Be very wary – the capacity to make lucid judgements is considerably diminished by the lack of oxygen, fatigue & other affects of high altitude. Do not forget that the flight is 4 000m drop & will take around 45 mins of descent. Everything must be considered before launch; clouds, valley winds, thermal conditions, direction & strengths of the various air masses that will be encountered, etc. Ability: Autonomous pilots with a very good level of mountaineering. Taking a guide who is also a paragliding instructor is highly recommended. It will help to give you every chance to be able to achieve this fantastic flight
Landing site: all the official Mont Blanc region landing fields are accessible from Mont Blanc but the Bois du Bouchet, Passy-Marlioz & Passy-Chedde sites are recommended, as they are the easiest to access.
Specific rules: strictly forbidden (by Ministerial decree) during 1st July to 31st August.
A minimum (climbing equipment) list has been made by the St Gervais town hall, it is also complulsory to have a reservation for the Gouter refuge.
Launch Site Mont Blanc
• Direction: North, East to South West but impossible in West winds.
• Altitude: 4 810m
• Vertical drop: approx 4 000m
• Access: Normal routes: via Aiguille du Midi & the 3 Mont Blancs or by Le Gouter. High altitude glacial mountain route "Peu Dif cile +" Consult the various guide books or a mountain guide.