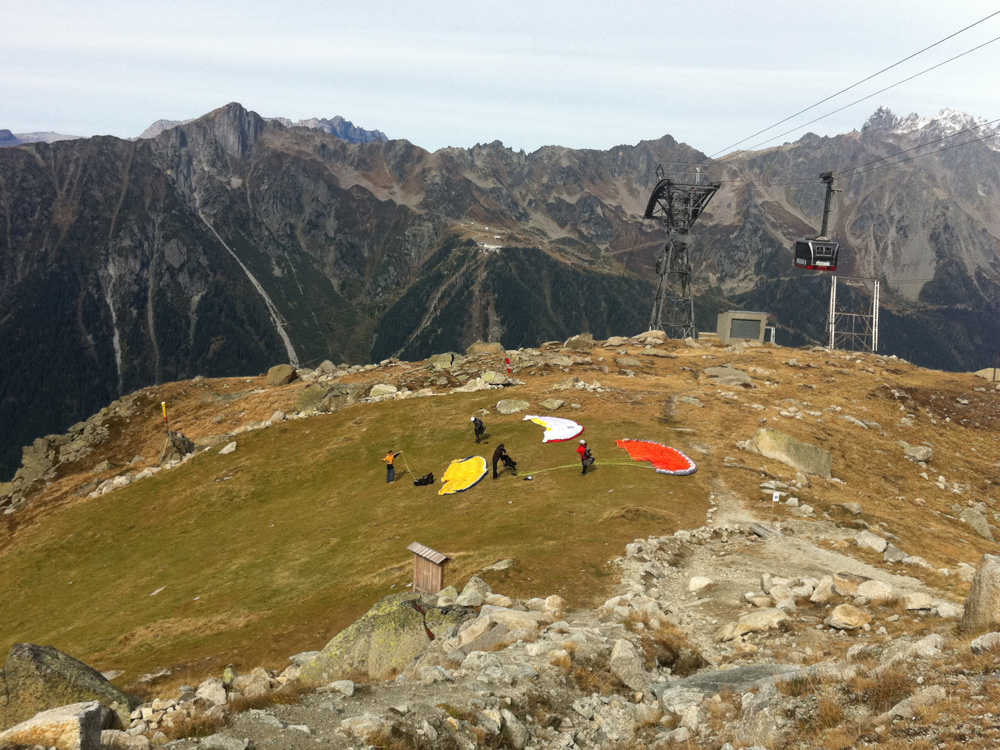 Flight conditions: the site usually works from the beginning of the afternoon to evening due to thermal breezes & thermodynamic conditions . Light Westerly winds can allow launching in the morning.
Dangers / Difficulties: With light winds the take off requires very good forward launch technique.
Once thermal conditions have become established the wind can be very strong (usually from around 13h) very good reverse launch technique is required. Whilst the take off is realitvley large, the surronding rocks are very unwelcoming .
High tension electricity cables to the left of launch are very hard to visualise and present a real danger but are easily avoided by not going to the left whilst flying out from take off. 
There are cable car cables behind, to the right of launch & further away to the left for the second stage of the cable car.
The launch has been remodelled at great effort by the club, Please avoid any activity that may cause uneccessary wear of the grass at take off, when descending, the slope to prepare wings, please keep to the sides of the launch.
Ability: supervised beginner to XC pilot.
Landing  field: Bois du Bouchet. The landing field is not visible from launch. Always allow ample altitude to glide to the landing field as there are no emergency landing options between take off & the landing field. Be sure to visit the landing before going to take off. In winter the landing field iavailable at Bois du Bouchet hang glider landing  field.
Variations: during the winter & early spring with good snow cover, it is possible to launch to the North East by walking two mins lower to the foot of the small gondola pylon. The take off is almost  flat & requires good technique. Do not use this launch if the wind is sustained as you are launching into an enclosed valley that can generate turbulence. This launch is very technical / dangerous once the snow has melted as there are many boulders that become apparent.
Specific rules: forbidden to launch or over fly in July & August by ministerial order.
Plan de l'Aiguille launch site
• GPS : N 45° 54' 17" E 006° 52' 59" • Direction : West (& North East in the winter / early spring)
• Altitude : 2 233 m
• Vertical drop: 1 233 m
• Access: 1 st stage of the Aiguille du Midi cablecar. 5 mins walk down beneath the cablecar.  
• Site details/ equipment: windsock & streamers.
• FFVL registered site.
• Balise météo FFVL.